Reference Sire Only Royale Cartel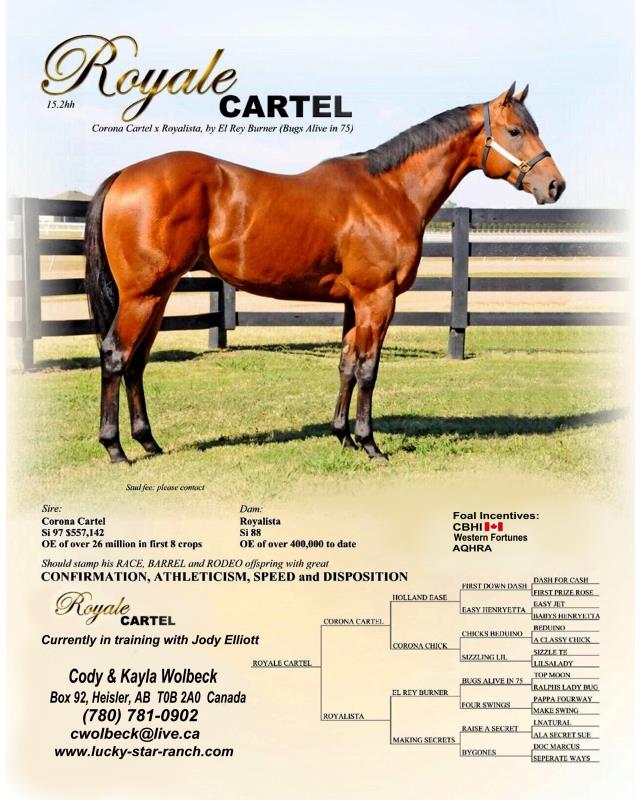 Reference Sire Only
Now owned by Rodney and Teresa Cootes of Lantzville BC
Contact them at (250) 390 7665 or rwcootes@shaw.ca
***Lucky Star Ranch did retain frozen semen permits for on farm use only. We will have offspring available from time to time.
CBHI/SUPER STAKES
WESTERN FORTUNES
2011 STALLION X THE GREAT "CORONA CARTEL" (champion sire, $35,000 stud fee)
ROYALE CARTEL EARNED HIS ROM IN FIRST OF ONLY 3 OUTS ON THE TRACK
Royale Cartel is a tremendous athlete. He really likes to turn and can flat out fly. Being a late foal he was rushed to the track and received a limited amount of training but he was able to show his speed regardless. He spent his barrel futurity year in training with Jody Elliott and did well with limited hauling. He showed lots of turn and a ton of run. Royal has an exceptional mind around other horses and is easy for anyone to handle.
Royal worked on the ranch and proved his versatility working cattle, running barrels and team roping. He has made lots of miles through the coulees and can really cover ground with his stride and willingness to get somewhere. Moves with a ton of class and collection at all times.
His oldest offspring are 2015 foals. He stamps his foals with the same classy way of carrying themselves and that same refined head and neck. They are very straight and correct with lots of hip. His offspring are very talented and trainable. He's thrown blacks, palominos, duns, buckskins, bays and sorrels.
SOME PEDIGREE INFO
DAM ROYALISTA-$10,000 lte, 88si, 3 firsts. Offspring earnings of over $400,000, 7 ROM as of 2014. Being bred at the Lazy E ranch through embryo transfer to the likes of corona cartel and carters cartel two-three times a year! Going to be even better stats coming!
EL REY BURNER-$125,000 lte, 98 si, offspring earnings of $2m, leading siring son of bugs alive in 75, sire of 185 starters of which 127 are ROM earners and 101 earned their ROM as two olds. Sire of top barrel and race horses, including DASH KING $195,000
MAKING SECRETS- Dam of 11 ROM
Corona Cartel

Holland Ease

First Down Dash

Easy Henryetta

Corona Chick

Chicks Beduino

Sizzling Lil

Royalista

El Rey Burner

Bugs Alive in 75

Four Swings

Making Secrets

Raise A Secret

Bygones